It wasn't just the vendors
that made this market so special...
We were invited to join "Back in the Day" Vintage Market in late April, and took a magical, pre-dawn road trip up the coast toward Santa Barbara, winding our way up and through the San Marcos Pass as the sun rose through the fog.
Our destination was Los Alamos, a gem of a town nestled in the Santa Ynez Valley, surrounded by Steinbeck-worthy farmland, bougie cows, and sprawling ranch homes. And lots of vintage & antique everything.
As we set up our booth at The Alamo Motel, we couldn't help but be drawn to the other vendors. They were kind, welcoming, and had amazing vintage & antique items for sale. From vintage clothing & accessories to home decor & furniture, we could tell everyone was there for the love of vintage.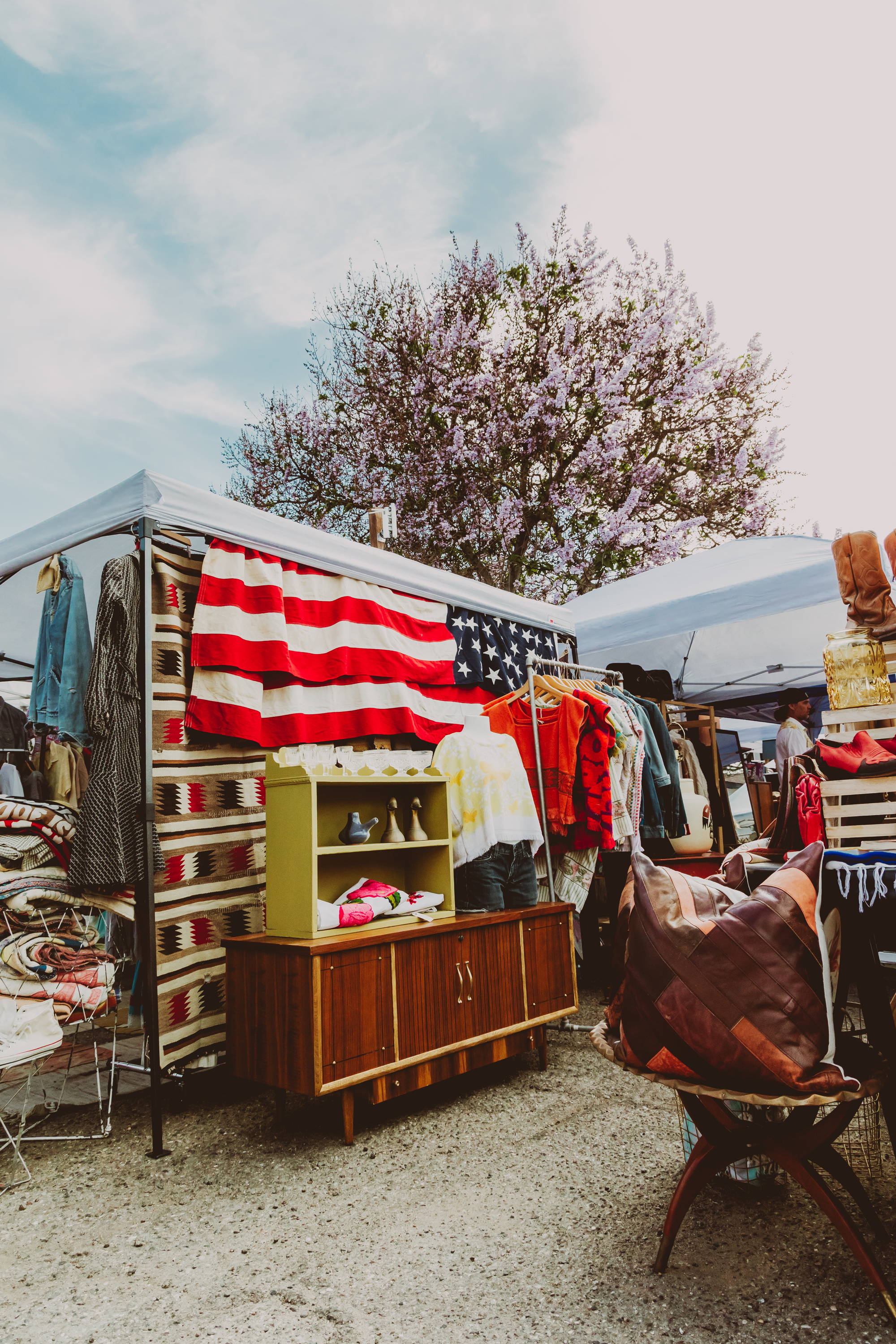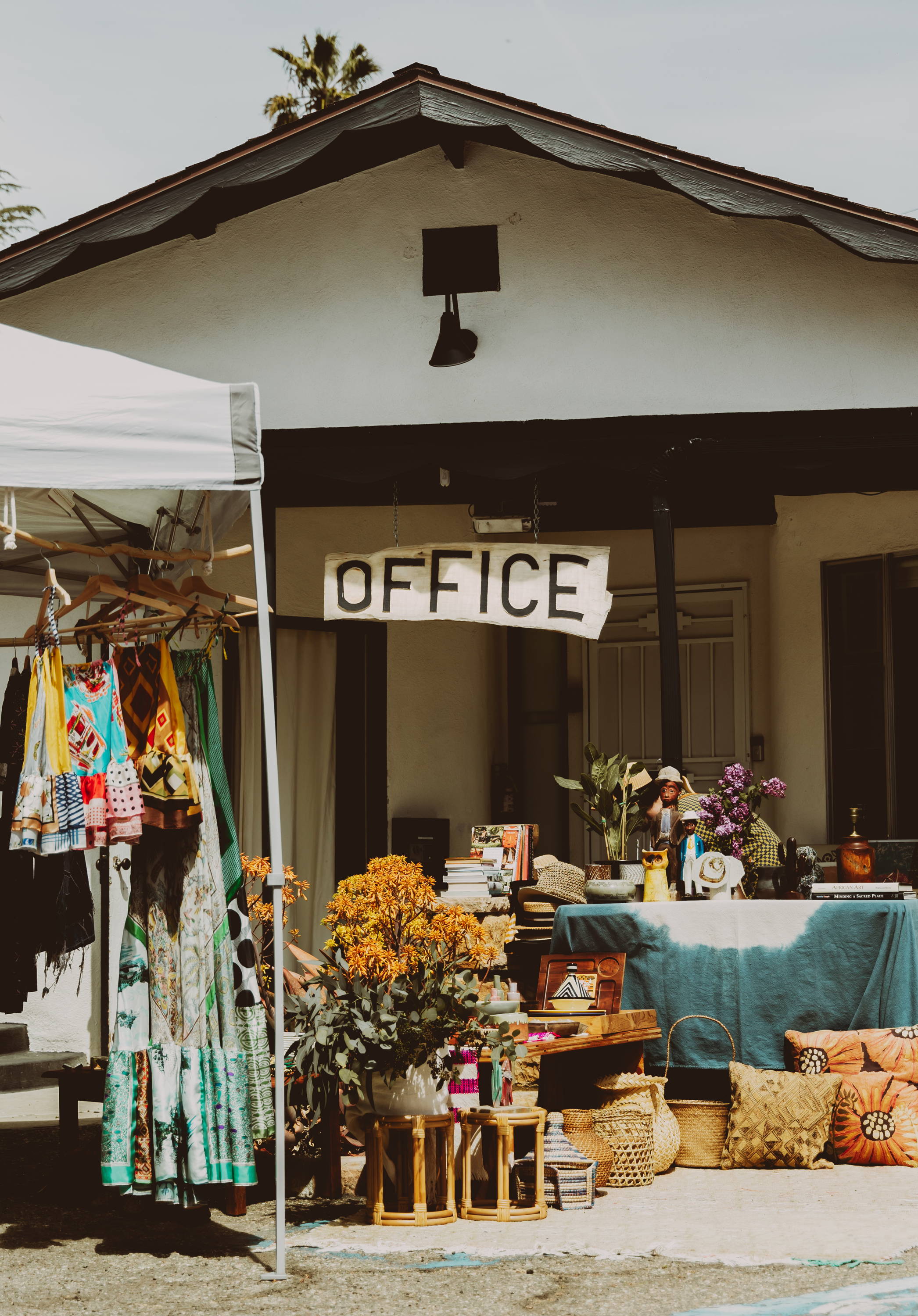 The Alamo Motel is a one-of-a-kind lodging experience in the heart of Los Alamos, and it served as the perfect venue for the vintage market. Rustic, authentic, and thoughtfully curated, our new favorite stay will transport you back in time with its Western-style rooms and a minimalist array of Western artwork, hide rugs, and pinewood accents.
The exterior of the motel is just as charming as the interior, with classic white stucco and black-trimmed accents that blend harmoniously with the surrounding cactus and rock gardens. Patio lights illuminate the U-shaped property, which features a pond, babbling brook, plenty of trees and shade, and cactus gardens.
When you stay, spend the day exploring the town...then cozy up in an Adirondack chair at the fire pit with a glass of mouth-watering local wine from The Alamo Bar. As the evening sets in, follow one of the rustic walkways that spill out onto the main thoroughfare of Bell Street, and walk to any local restaurant for an unforgettable meal.
Los Alamos feels like stepping back in time and being home all at once. It's a charming little town with a growing food, wine, arts, and antiques scene. The Alamo Motel fits right in with its vintage aesthetic and unique character. Please don't ever change!
"Back in the Day" Vintage Market
Presented by Shelter Social Club and curated by Ojai Design x Vintage, it was an unforgettable, fun-filled day with amazing vendors, live music, food and drink. Our fellow vendors were top-notch, offering a wide variety of spectacular antique and vintage home furnishings, decor, rugs, lamps, pottery, artwork, vintage clothing, jewelry, and accessories.
But it wasn't just the vendors that made this market so special. The setting was absolutely beautiful, with our booth situated next to the peaceful brook, the delicious, Ojai-based Bonito Coffee, and live music by super-talented local bands, including The Coral Sea, and DJ Daisy van Tassel. The cherry on top...the weather was perfect with just the right amount of breeze, and everyone was having so much fun!
One of our favorite things about a vintage market is people-watching. The crowd at "Back in The Day" did not disappoint, with attendees bringing their best vintage looks and their furry friends. It was like an informal dog show, with pups of all sizes making an appearance.
The entire day was inspiring, and its wonderful people left an indelible impression on us. We can't wait to do it again!
Thank you, Los Alamos,
you have our hearts.